by USA Today Bestselling Author, Chelle Bliss Released on January 26th - LIVE
EVERYTHING CHANGED IN AN INSTANT.
I thought I knew what was important, but one phone call sent my life into a tailspin.
Alone and afraid, I cling to the one man I shouldn't.
I was warned about him and told to stay away. "He's dangerous," they said.
But the man who could hurt me the most, gave me the greatest comfort.
"He's not who they think," I told myself.
But just like an illusion, things are never what they seem.
REVIEW
Please remember, Authors do not want to write the same story over and over... This is something New and SO VERY EXCITING!
Oh this book, this story gets you right in the feels. It hits you where it hurts you the most, your heart. Who am I kidding, this was a kick in the gut as well. If you read this and do not have a reaction to the heartbreaking issue Callie is facing, well there is no hope for you...YOU ARE A ROBOT!
The story has so many layers to it, Callie's struggle, Bruno's secrets, Callie and Bruno's past and possible future, Oh and let's throw in Becca, the friend we all need, but sometimes we just need a break form her. It makes for a deep story that is rich in characters. Bruno's family, I just love and adore the supporting casts this author comes up with. They are Hysterical and a much needed light for Callie.
I was crying, laughing hysterically, crying again and then just happy... just at peace with the direction this beautiful story was taken. I am not sure how Chelle was able to go to the place she went to and to express just how Caliie was feeling. I mean, one whole chapter was just word for word, paragraph after paragraph, Perfection. I have witnessed the event she is speaking of and she nailed it.. Brilliant. I'm getting all emotional right now thinking about it. This book with touch everyone who reads it, I honestly believe that. One can not read this story and not relate in some shape or fashion.
We get our typical hot Chelle Alfa Man, but Bruno has something special and it makes you just love him that much more! He has secrets and very few people know about them and he does not share with Callie, causing a lot of pain and confusion. But to me his most endearing quality was, his compassion! He pushed when Callie needed a push or shove sometimes and he walked away when she needed space. Never too far away, he was always there in some way. He was everything she needed in a time when she didn't want to need anyone.
As you read this story you may get frustrated with Callie I did. But I read it with a couple things in the back of my mind, "what would I do?" " how would I act?" It really makes you take a look at yourself and question things you think you know the answer to, but in reality, one never knows until you are put into this situation.
As a standalone book this story has mighty feet and legs holding it up. I went into this without knowing the first thing about it, I avoided all blurbs, goodreads posts, Chelle's newsletter... all of it. I wanted fresh eyes when I went into this, and shock and awe are the only things I can come up with. You are thrown for a loop when secrets are revealed, but you are elated at the same time.
There is no heavy love triangles, tragedy or baby mamma drama in this story, but it is by far Chelle's most dramatic story to date. I believe this will touch many lives and possibly help someone dealing with or supporting someone going through the same struggles as Callie and Bruno.
5 STARS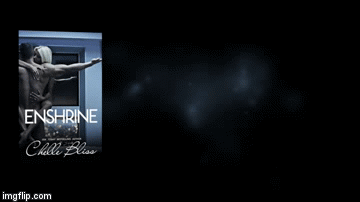 Available at the following retailers
ENSHRINE GIVEAWAY - OPEN INTERNATIONALLY
ABOUT THE AUTHOR
USA Today Bestselling author, Chelle Bliss, currently lives in a small town near the Gulf of Mexico in Florida. She's a full-time writer, time-waster extraordinaire, social media addict, and coffee fiend. She's written over ten books and has two series available. She loves spending her free time with her boyfriend, 2 cats, and her hamster.
Before becoming a writer, Chelle taught high school history for over ten years. She holds a master's degree in Instructional Technology and a bachelor's in history. Although history is her first love, writing has become her dream job and she can't imagine doing anything else.
ALSO BY CHELLE BLISS